Dallas, TX — October 10, 2000
Hypersoft Information Systems has unveiled the new 6th version of its mail measuring software product Exchange Analyser™. Now our customers are offered a reporting tool covering everything that an Exchange administrator or a company manager might want to know about their company's messaging activities. More than 30 Web-based reports supply all mail delivery times, delayed and NDR messages statistics, server availability statistics, as well as inter-site traffic information, Windows NT event logs and information store contents data for analysis. The product works with Exchange 2000, operates on the Windows NT and Windows 2000 platforms, and leverages the possibilities of SQL Server 7.0 (for enterprise edition) and MSDE 1.0 (standard edition).
With the release of Exchange 2000 the mail traffic statistics seems to remain a business-critical issue with many companies. This is even more so, when the company deploys a big amount of Exchange Servers, thus making the messaging a more extensive but also a more vulnerable process.
Exchange Analyser™ is a distributed application, which includes the server components (Exchange Agents) working on every Exchange Server, the Analyser itself working on a central integration server, where metrics are collected and processed. Each Exchange Agent fulfills scheduled collecting of mail tracking logs, scans mailboxes and public folders and sends the collected information to the Analyser, which arranges this data in tables. Upon a request the desired information can be viewed in the Exchange Analyser™ Reports, which can be accessed via intranet or on the Internet and allow advanced filtering possibilities, so that you are free to generate only those reports that you need now.
"We have tried to develop a product, which would be capable of reporting not only about the company's mail daily statistics, but would also provide the Exchange-based professional with detailed information about the mail bottlenecks, chargeback per mailbox and larger units, and public folder usage trends. - says Dr. S Dobrinevski, the director of Hypersoft Information Systems. - By introducing the mailbox contents scanning service, which reports on all malicious contents and offensive messages and attachments, we want our customer to say: Now I don't need to look for other minor solutions, because now I can do it all with Exchange Analyser™."
More product features include:
Transparency – Exchange Analyser™ is non-intrusive and performs only ordinary client operations without producing any disagreeable effect on your company's servers.
Performance - When running on a server with 256 MB memory, 600 MHz processor and RAID 0/1, Exchange Analyser™ processes tracking logs for one day from 50 Exchange servers within 3-5 hours.
Support and Services.
Realizing the business-critical needs of our clients, we offer a wide range of services and support activities, including product installation, professional training, customization of reports, as well as free information support around-the-clock.
"With the launch of Exchange 2000, Hypersoft Information Systems is prepared to provide a valuable component to customers implementing a reliable messaging solution," said Stan Sorensen, group product manager, Server Applications at Microsoft. "Hypersoft is focused on enhancing the reliability and security of customer's Exchange 2000 messaging and collaboration infrastructure."
Hypersoft Information Systems has been the first in the market for Exchange-based solutions to offer a highly reliable reporting tool. Matching the milestones of IT development, Hypersoft Exchange Analyser™ has been constantly improved, new technologies has been leveraged, and the reports have been tuned to best satisfy the actual business needs of our customers. Buying the Exchange Analyser™ 6.0 you are buying an up-to-date professional mail messaging solution of classic quality.
More information on Exchange Analyserä can be found at www.hypersoft.com/analyser.htm.
Munich, 5. May 2000
Hypersoft continues to enhance the functionality of its Exchange Analyser™ software, which is the most comprehensive reporting tool at the market for large Microsoft Exchange installations and the only available product, which provides full information on all mail delivery times in Exchange organisations of any size.
With the release of Exchange Analyser™ version 4.0 Hypersoft is adding critically important availability statistics and server connectivity information to the proven statistic functionality of this powerful software suite.
These major additions make Exchange Analyser™ the ideal tool not only for gathering complete traffic information in Exchange networks, but also for server health monitoring and for availability statistics. The Web-based reports also have been substantially expanded and include now such important information as undelivered messages report, server availability report, separation of public folders and directory replication and a number of other enhancements. The capability to graph traffic and service level trends has been added.
Cost calculation for chargeback is now also part of Exchange Analyser™ functionality.
Overall the new release of Exchange Analyser™ is the most complete source of information for performance analysis, service level agreements and cost analysis in large Microsoft Exchange networks.
More information on Exchange Analyser™ can be found at www.hypersoft.com/analyser.htm
Hypersoft Information Systems continues to enhance the functionality and design of the Exchange Analyser software package.
Still offering the most comprehensive message tracking and reporting in Exchange, and still the only application available that can accurately calculate end-to-end delivery times; Version 3.0 offers several new features, add-ons and further out-of-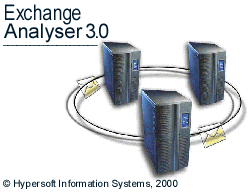 the-box reports.
Exchange Analyser™ is now able to perform full Cost Accounting (Chargebacks) based on the size and number of mails.
Version 3.0 is fully operational under Windows 2000.
All reports have been moved to ASP technology – independent of the data accumulation process, the Exchange Analyser allows any user to view reports through a Web-based browser, or interactively create and post activity reports of their own.
Improved Performance – optimized database structure and highly efficient processing significantly reduces the data collection process with negligible bandwidth consumption.
The new version of Exchange Analyser™ automates the data tracking process and the sequential delivery of completed work.
Some of the new out-of-the-box reports in version 3.0 include:
- Mailbox Statistics Report
- Custom Service Level Reports
- Global Address List Reporting
- Servers Traffic Report
- Connectors Traffic Report
- Cost Accounting Report
The scalability of Exchange Analyser™ covers the entire range from simple single-server installations to large multi-site organisations with unlimited number of Exchange servers and mailboxes.
Trial versions for both Enterprise and Standard Editions can be downloaded from the Hypersoft Web site.