Orlando, Fl September 30, 2001
Hypersoft Information Systems GmbH– the Germany-based developer of messaging and communication analysis and reporting software – is now glad to announce the availability of its OmniAnalyser™ 7.0 product version. OmniAnalyser™ 7.0 is a significant milestone in the Hypersoft product line, encompassing wide functionality for professional analysis of the corporate E-mail, visualization of the traffic trends and monitoring of mail servers and repositories.
There is no underestimating the role of E-mail in today's business. Healthy and stable messaging system is a backbone to each company's activities, and the bigger is the company, the more critical load is placed on its E-mail networks. Obviously one needs a good tool, which would non-intrusively analyze the system's performance and supply data to the involved IT staff in a convenient and interactive view. OmniAnalyser™ has been designed to meet these needs, and each new product version is to leverage new technologies and match the significant changes on the IT market.
"OmniAnalyser provides a valuable solution," said Kevin McCuistion, Exchange Group Product Manager at Microsoft. "Microsoft is excited to be working with Hypersoft Information Systems to offer customers a reliable solution to enable business with Exchange 2000 platform."
OmniAnalyser™ delivers all its information to the customer in Web reports, which are available in any Internet browser with no additional client software required. The product has a distributed architecture, which allows collecting all necessary data from multiple servers and sites over the existing E-mail traffic, with no impact on the network load. Both these features make OmniAnalyser highly scalable for organization with hundreds of servers and bad or no permanent connection with some remote sites.
An important new feature in OmniAnalyser™ 7.0 allows visualizing the entire company's mail network, see how resources are used, what are the volumes of traffic and quickly identify problem servers, SLA incompliance and system configuration faults.
"Hypersoft product has given us critical knowledge about our mail system, - says Brian Shrum, IT Analyst for Principal Financial Group. - Our email usage seemed to be increasing, but we had not been able to provide any hard numbers to prove that theory. We have been looking for something to report on the number, size, and frequency of the messages traveling through our environment, which would also fit into our infrastructure without disrupting what is currently in place. We can now start trending the information we receive for better server analysis, which allows us to determine when we have reached our limits for hardware. And we are also impressed with the delivery method of the data files in that it does not require any extra work since it uses our current email system."
OmniAnalyser™ is available to its customers not only as a product but also as a service from Hypersoft's or partners' premises. The software supports Microsoft Exchange 5.5 and 2000. The pricing is per server license. Extensive support and training are available from Hypersoft and its reseller's worldwide.
Munich, July 27, 2001
Critical new functionality have been added by Hypersoft development team to the OmniAnalyser ™ software. For the last 2 years the OmniAnalyser ™ has been the leading metrics solution to analyse and report on all messaging issues of an Exchange or Notes infrastructure. Now it became possible to monitor all servers and alert the Admin about the dynamic status of his mailing system – all this functionality available through the standard Web access.
The Server Monitoring Report is generated from the map of all company's servers, by doubleclicking on the server icon, whereas all trouble servers are highlighted in red on the picture and an alert is sent to the Administrator as SMS or mail to his mailbox.
The following information is included:
· Server's availability to mail clients
· Server's availability in the network
· Mail queues, their current state and sizes
· Disk space usage
· Memory usage
· CPU
· All services running on the server, their current status
All these features are already tested and available in the current product version, and will be included in the OmniAnalyser ™ 7.0 version to be released this fall. The new product version is going to be a breakthrough on the market of messaging metrics solutions – its combination of analytical, monitoring and reporting features makes OmniAnalyser ™ a unique instrument, capable of giving the Administrator all information he needs to maintain effectively its Exchange 2000 or Lotus Notes environment.
Booked out several days in advance, the goal of the Exchange Messaging Day is to provide first-hand information about hot messaging topics for IT managers. Messaging experts of market leading companies, including Microsoft, Sybari, and other well-known providers of messaging software and IT services will demonstrate and explain tried and tested solutions for planning and implementing messaging solutions.
Hypersoft Information System's OmniAnalyser™, as the most reliable instrument capable of delivering full metrics on all messaging traffic, server availability and information store contents statistics in MS Exchange organisations, will be one of the messaging solutions presented at the Exchange Messaging Day exhibition.
Apart from that, a workshop on monitoring and reporting of messaging systems in environments of any size and complexity using OmniAnalyser™ is included in the event agenda.
Other offered workshops include practical solutions for Exchange 2000 – migration strategies, server infrastructure management and client configuration - and long-term strategies for messaging collaboration.A separate emphasis is put on Exchange Security, giving information about virus protection, encryption, server security, spam protection, and many other security-relevant messaging aspects.
Cleveland, June 4, 2001
Penton Technology Media, a division of Penton Media, Inc. (NYSE: PME) announced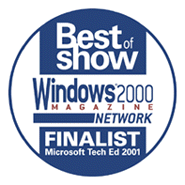 today that Hypersoft OmniAnalyser™ was one of 40 finalists for the Windows 2000 Magazine Best of Show Awards. Winners will be announced at Tech Ed 2001 in Atlanta, GA on June 19.
"The field included nearly 200 entries and the selection process was rigorous. We chose finalists based on the product's strategic importance to the market, the competitive advantages and the value to the customer," said Karen Forster, editor in chief of Windows 2000 Magazine.
The OmniAnalyser™ from Hypersoft Information Systems is the leading traffic and contents analysis software for messaging systems. The product works with Microsoft Exchange and Lotus Domino and provides the administrator and manager with comprehensive information about all aspects of the company mail traffic and contents of the information stores. This includes service level compliance, routing problems, server and connector traffic, replication mails, properties and contents of public folders and mailboxes, and a lot of other business-critical information. More than 50 Web based reports allow quick access to all these data for any authorized user directly in the Internet browser. The advanced architecture of the product ensures quick collection of data from multiple servers. OmniAnalyser has the unique scalability range from small one-server installation to the biggest messaging systems with hundreds of servers. The deployment scenarios for OmniAnalyser™ include traditional in-house operation as well as ASP usage. With all these features the OmniAnalyser software is today's most comprehensive tool for measuring and analysing e-mail traffic in organisations of any size.
Munich, 30 March 2001

Today Hypersoft has released a new version of its reporting and analysis software for MS Exchange and Lotus Domino mail servers. This edition shortly follows the previously announced availability of the product for Lotus Notes environment – indeed, Hypersoft does work hard to make sure that its reporting software remains the most comprehensive metric solution on the market.

A number of new and improved features are added now to the newest version 6.04 of the OmniAnalyser™ software.

Improved bulk insertion and deletion of large data volumes.
Additional options have been introduced for handling daily load of more than one million messages. It is now possible to process data in batches of adjustable size, which allows to efficiently manage database resources, log file size and available storage space.

Flexible Address Book import.
Additionally to importing the full directory, you can now the import of Mailboxes, Contacts and Distribution Lists to be done separately. In the same way, you can specify to import only new or modified items.

Reports Interface.
The new start page organizes the reports by groups: Traffic, Service Level, Servers, Mailboxes, and Public Folders. Some reports can be found in different groups, which makes navigating through this information much easier.

New Graphs.
Several new graphs and charts have been added for easier visualization and understanding of messaging traffic history and trends.

Dynamic data links.
Total numbers of delayed or undelivered mails in the service level reports are now directly linked to the detailed information on these mails.

New Reports.
A new group of reports on company Public Folders has been added. They include full description of all public folders, replicas information, public folder resources for sites and servers, public folder activity and item duplication. With the introduction of these reports, Hypersoft adds comprehensive public folders coverage to the messaging metrics.

With this milestone in the OmniAnalyser™ development Hypersoft is further enhancing its recognized reputation as the leading professional metric solution for messaging systems.
Munich, 08 March
New reports have been added to OmniAnalyser™, which ensure a unique drill-down analysis of the company messaging traffic.

OmniAnalyser™ has long been known as software, which can among other data provide detailed statistics on mail delivery times – the information critically essential for both parties of the Service Level Agreement. The SLA tables and graphs in OmniAnalyser™ reports contain statistics on delayed mails for each particular hour, day or any other time interval; delay time values may be specified by user, depending on the existing SLA contract.

All this data is a perfect basis on which to build your Service Provider-Client relations. Indeed, there is probably no other way to estimate, to which extent the E-mail service in your company is compliant with the agreed level.

However, a new knowledge area has been explored with the implementation of the new OmniAnalyser™ reports: that of analysing the total history of message delivery and thus identifying the exact spots in the company messaging network, that are responsible for the delayed mails.

"There is an eternal need for the system administrator to know, what is the number, size and percentage of delayed mails, - says Dr. Serguei Dobrinevski, the Hypersoft Director,- but the next obvious step is to be able to say, what caused those delays and where they did happen. In these new reports we tell our customer even more – what was the delivery time for each message on every particular link within the total company network topology."

The data retrieved by the new product functionality creates to the equal extent a basis for more system management activities. By visualizing the traffic trends for each server and connector, you will be able to make necessary decisions for your network configuration.

With Hypersoft OmniAnalyser™ corporate e-mail traffic is no longer going to contain any dark and unexplored areas – now you will be able to extract sufficient information on any part of your mail network.